Description
Our wooden bedroom door name plaques are great for children's doors, beds or walls.
We use a scroll saw to cut each individual name which then goes through two stages of sanding, by machine and hand, to ensure smooth and safe edges all around.
Name Plaques are $4 per letter for the standard size and $8 per letter for the large size.
Standard size letters are around 4 – 5 cm high, capitals around 10 – 12 cm high and are 16mm thick.
Large size letters are around 6 – 8 cm high, capitals around 16 – 18 cm high and are also 16mm thick.
Plaques are in the mail in 4 – 5 days
Each plaque has mounting tape attached to the back so it can be displayed straight away.
Choose your own colour.
You can also add a heart or a flower to the name. Just add an extra letter to the "How Many Letters" drop-down box for each one required. Then mention it in the "Name Required" box. e.g. Ella with a heart; or Ella with two flowers etc.
Our design uses a funky font which is totally original and unique. Supplied wrapped in clear cellophane, our wooden bedroom door name plaques make a colourful, presentable gift.
If you want multi-coloured names, the letters are also available individually. We call them Plaque Letters and each one has a piece of mounting tape attached to facilitate their display.
Shipping within Australia is a set rate of $12 no matter what you order.
Colours available……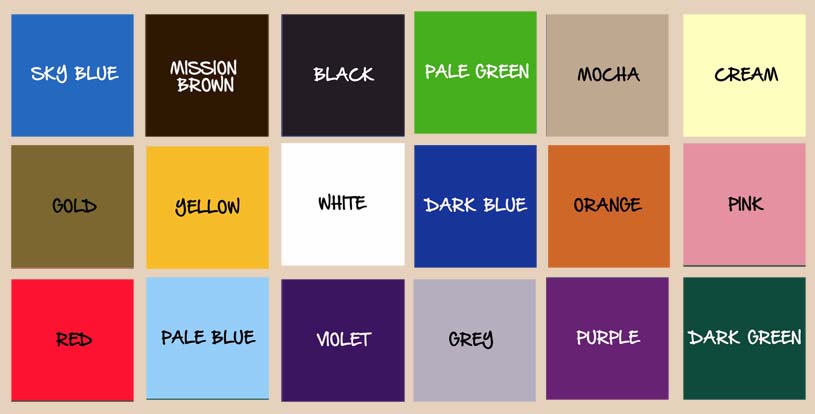 A brief History:-
After creating a series of animal puzzles and name puzzle early this century, I decided to add children's name plaques to my repertoire.
Keen to expand my range, I started an exhaustive search for a font that would fit the product and the Jigzoos brand. I finally settled on one called Hand of Sean, which I continue to use to this day. I was drawn to it's funkiness. Not too flowery and not too dull.
I've been personally making and selling them on this site and at the local markets for over fifteen years.
If you're ever visiting Byron Bay or Bangalow markets in northern NSW, Australia, please say hi.
I use my trusty scroll saw to make every plaque. I'm on about my sixth or seventh scroll saw now but still enjoy it immensely.  I take great pride in supplying a product that is unique, original, affordable and enjoyable.
These Jigzoos name plaques are also sold on Etsy, which is an excellent resource for finding handmade items.
You can see my Etsy shop here:-
https://www.etsy.com/au/shop/Jigzoos